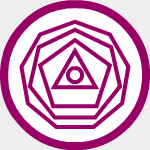 The Scottish Rite Research Society
Membership in Scottish Rite Research Society open to anyone — there is even a membership level for non-Masons.
The Research Society puts out an annual hardbound publication titled Heredom, a compilation of scholarly papers on Masonic history, a copy of which is included along with your membership. Membership also includes a special Bonus Book, ten percent off all purchases from the online store, and the Society's quarterly newsletter The Plumbline.
Scottish Rite Research Society
<< General Allied Bodies | The Philalethes Society >>